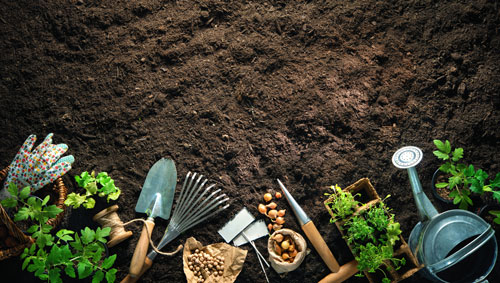 By BBC Gardeners' World Magazine
These simple garden projects are a great way to get the kids outside, entertained and away from the TV or computer screen. All of the activities are suitable for children of primary school age, but it's easy to tailor them to suit older or younger kids. Little ones will need a bit of extra help and guidance, while the more grown up can be given planning and decision-making responsibilities, and the use of tools such as hand drills and shears.
Pot up colourful containers
Instant container displays are easy to plant and will quickly fill the space allocated to them. Let your kids choose plants from the seasonal displays at the garden centre, then use a cheerful pot to match. Choose either a coloured plastic pot or paint a terracotta pot with a brightly coloured paint – if your kids are old enough they could help with this. Ensure there are drainage holes in the base, then add multi-purpose compost until it's two-thirds full. Remove the plants from their pots and place them on the compost – arrange into an attractive display. Fill in around the roots with more compost and firm in well. Water the plants in and place the pot in a sheltered, sunny spot. Continue to water regularly over summer and pinch off faded flowers to encourage more to grow.
Fairy garden
Help children create an enchanted garden at the base of a tree or in a hollow in the ground. Kids will love collecting stones for paths and twigs for fences, and you could add ferns and other small plants around the trunk. Help little ones to tie ribbons to branches and make a fairy door for a tree or wall by decorating a piece of cardboard or the lid of an ice-cream tub.
Twig teepee
Encourage your kids to build an adult-free space, using branches stacked against a wall, fence or tree. Help them arrange the branches to make walls that are dense so they provide privacy and with an opening that's just wide enough for them to crawl through. Older children will enjoy designing the den and could try building a freestanding one too.
Grow micro-greens
Micro-leaves are all the rage and kids will love growing, and hopefully eating, them too. You don't need special micro-leaf seeds – just use seeds of any veg with edible leaves, such as basil, broccoli or spinach. Choose any container, from plastic cups, yoghurt pots or biodegradable pots – all the better if you can draw a smiley face on them. Fill your pots almost to the top with compost – just leave a little gap to make watering easier. Scatter the veg or herb seeds thinly across the surface, then cover with a little compost. Water to dampen the compost, then check them regularly to make sure it doesn't dry out. Then simply place the pots on an indoor windowsill to grow. To harvest the microgreens, simply snip them off at the base. Alternatively, wait until they have a pair of true leaves then cut off just these, and you may get a couple of harvests.
Browse all suggestions for garden projects for children, here.