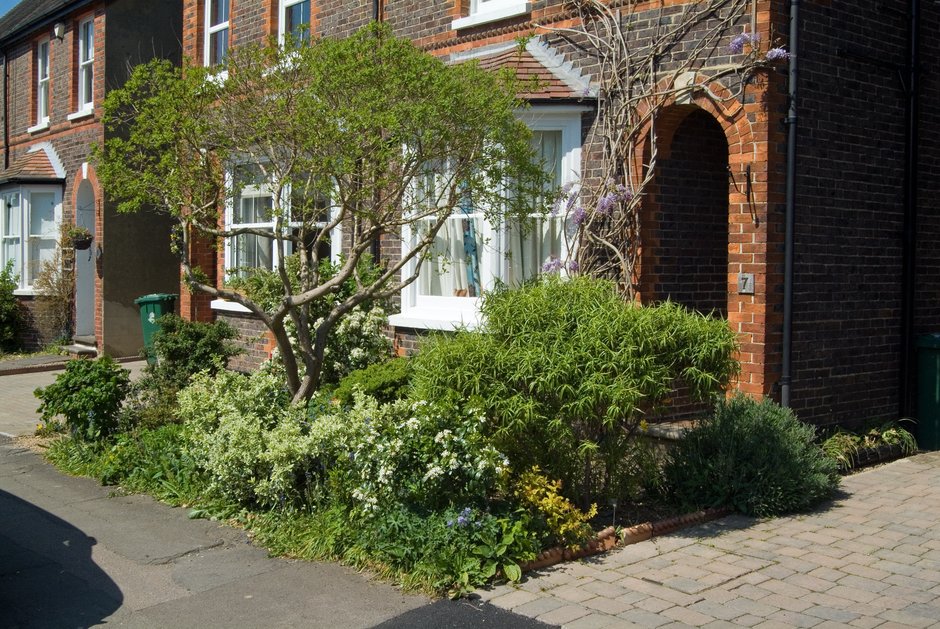 The proportion of front gardens that are planted rather than paved has increased dramatically in recent years but there is still much to be done.
Reasearch from The RHS shows, front garden greenery has grown by an area 70 times the size of Hyde Park since 2015.
This increase in front garden plant cover is expected to be bringing far-ranging benefits to people's health and wellbeing, to the environment and to wildlife.
Using results of an RHS survey of 2,056 UK adults carried out by YouGov and data from a 2015 survey carried out by Ipsos Mori, the RHS has found that plant cover in front gardens has increased by almost 40 sq miles (25,600 acres) in just five years, from 164 sq miles (105,000 acres) in 2015 to 202 sq miles (129,000 acres) today.
More than one million more UK front gardens contain nothing but greenery and the number of front gardens containing no plants at all has halved.
Greening Great Britain
However, with more than a third of front gardens containing less than a quarter plant cover, and 2.5 million with no plants at all, there is still critical work to do to unlock the true potential of UK gardens and green spaces.
RHS Director of Science, Professor Alistair Griffiths said: "The RHS has been promoting the importance of adding plants to paved over front gardens since 2015 when we launched our Greening Great Britain campaign.
Although there is still much to do we are thrilled to see an improvement which has been helped by millions of people taking up gardening over lockdown and buying more plants to grow indoors and out.
RHS science suggests that this substantial increase in greenery will be bringing wide-reaching benefits to people's mental and physical health and to wildlife; improving air quality, helping conserve water from rainfall and cooling cities in hot summer months."
Wales (3%) and the south west of England (5%) have fewer paved-over front gardens than any other region. Wales (38%) followed by Scotland (34%) and the south west of England (32%) have the greenest front gardens.
Prof Griffiths added: "A recent RHS science project has shown that adding a few plants to a bare front garden reduces stress levels by as much as eight mindfulness sessions, so we are delighted by this increase in plant cover.
However the fact that a third of front gardens are still mainly paved over is still pretty bleak considering how easy it is to incorporate plants in any sized space. Combined with the increasing threat to parks and green spaces from the growing demand for housing we know there is still much work to be done.
Let's continue to ride this wave of gardening enthusiasm and fill our gardens and homes with plants, no matter how small the space, to feel better for it and give the environment a much needed boost. Even adding a single plant to an empty space has the power to uplift."
Over the spring lockdown in 2020, nearly half (48%) of all respondents who have a garden say they've spent more time in it and more than a quarter (28%) have bought more plants for their garden


The RHS website received over 31 million unique visits in 2020, compared to 19.9 million in 2019 (an increase of 57%) with a 100% increase in traffic to its advice pages during the spring lockdown


Nearly three in four people (73%) say an important benefit of having a garden is health and relaxation


Six in ten (61%) feel that helping wildlife is an important benefit and one in four (23%) have an area specifically for wildlife


One in four (26%) grow their own food
Horticultural excellence
On 24 June 2021 RHS Hilltop – The Home of Gardening Science will open at RHS Garden Wisley in Surrey with the aim of helping create a greener future and will promote the power of plants to improve health and wellbeing, support wildlife and help the environment.
RHS Hilltop will include a large exhibition space showing the latest gardening science and the benefits of gardening to the environment and wellbeing, along with learning studios and a teaching garden.
The building will be surrounded by 'living laboratories' covering four acres. The Wellbeing Garden, The Wildlife Garden and The World Food Garden will be packed with ideas reflecting new research for people to take away and incorporate at home and in communities.
Green up your front garden
Ten easy plants for driveways
Why should we green Great Britain?
Create a green oasis in your front garden