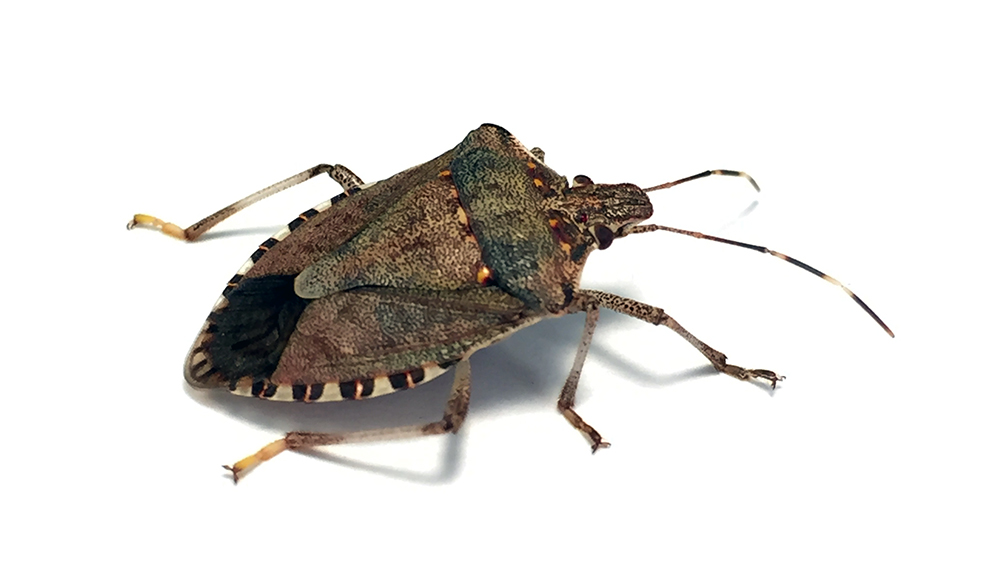 By Helen Briggs BBC environment correspondent
The brown marmorated stink bug has been spotted at three places in England so far, but experts are warning that it may become more widespread.
The Royal Horticultural Society (RHS) said gardeners should be on their guard for the insect.
It could appear alongside more familiar animals such as slugs, snails and the box tree caterpillar.
Andy Salisbury, principal entomologist at the RHS, said the pests and diseases that gardeners commonly face on their plots have fluctuated over the last 25 years.
"With gardens taking on a more important role in supporting wellbeing and the environment, it's important that research into management and mitigation of them continues and our rankings help inform this focus," he said.
"It's also imperative that we continue to anticipate future threats such as the disease Xylella, which is already present in Europe, and the marmorated stink bug, to protect our gardens for the future."
The brown stink bug is one of a number of Asian insect species that have recently established and become a pest in the US, others being the harlequin ladybird, the emerald ash borer and the Asian longhorn.
Of these, only the harlequin ladybird is firmly established the UK, where it is now the most common ladybird species.
Insect curator at London's Natural History Museum, Max Barclay, predicts that the brown stink bug could establish in parts of the South East of England and may spread further with climate change.
"The brown marmorated stink bug is very similar to many harmless native species, so we hope people won't go out and start squashing everything similar!" he said.
"We are only trying to determine how widespread it is at this stage, and we are happy to identify specimens sent to the museum's Facebook group or via email. "
The three sightings so far have been in Essex, Surrey, and in the Museum's Wildlife Garden.
The warning came as the RHS released its latest tally of pests plaguing gardens, with slugs and snails topping the list.
The box tree caterpillar slipped down the rankings as its march slows across England and Wales.
Honey fungus topped the list of diseases, as it has for 25 years.
With more people spending time in their garden during lockdown, the RHS reported an 88% increase in pest and disease enquiries last year.
The RHS conducts research on a wide range of plant pests and disease. This work will move to new science laboratories at RHS Garden Wisley, which will be opened to the public in June.
Top 10 pests 2020:
Slugs and snails
Vine weevil
Box tree caterpillar
Ants
Woolly aphid
Glasshouse red spider mite
Fuchsia gall mite
Glasshouse thrips
Rosy apple aphid
Capsid bug & glasshouse mealybug#
Top 10 diseases 2020:
Honey fungus
Pear rust
Leaf spot and canker of Prunus
Rose black spot
Bracket fungi
Powdery mildew of Prunus
Blossom wilt of fruit trees
Rose powdery mildew/Phytophthora root rots
Brown rot of fruit